Upland Concrete Contractor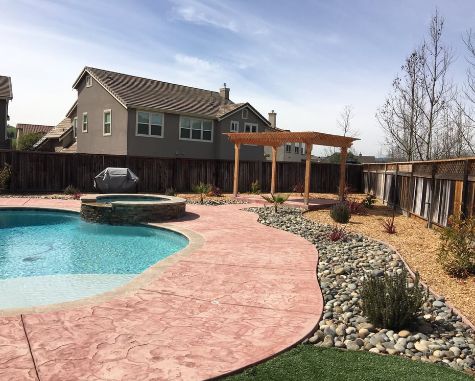 If you are a property owner, and in dire need of a trusted concrete and masonry contractor, you have successfully managed to find the best choice for you. We are the leading concrete contractor in Upland and the nearby regions, and we guarantee to make the best possible landscape for your house, both in terms of quality and visual appeal. To know more about us and our services, you can get in touch anytime! 
Call us today at (909) 247-3648 for free estimates.
Concrete and Masonry Services
Concrete Resurfacing: This is an easy way to refurbish your old surface. In the case of resurfacing, there is no need to get rid of the old surface. Fresh concrete is poured over the old surface to make it look perfect. You can add stained concrete, colored concrete, or decorative concrete to make your surface resemble other authentic materials such as stones, wood, etc. 

Concrete Countertops: If your old kitchen setup looks dull and monotonous, revamp it with a brand new concrete countertop. As a material, you cannot ever doubt the sturdiness of concrete. It can also effectively endure the pressure and wear and tear of a busy kitchen. Concrete is also heat-resistant, which makes it a great material for constructing countertops. Apart from these benefits, a concrete countertop offers a plethora of designs, styles, and finishes that will make your kitchen look even more beautiful. 

Concrete Driveway: Hands down, concrete driveways are marvelous. They look great; they are sturdy, resilient, long-lasting, and require very little maintenance. And to top it all, the cost is very much affordable. So what are you waiting for? Hire us today and build yourself a pretty concrete driveway!

Concrete Patio: The patio is the area of your house that deserves special care. It is the place where you can sit peacefully sipping on a coffee cup, or you may invite your friends over lunch. You can build a small fountain too if you like. Building a concrete patio would be wise, as it will have plenty of strength to support the entire area. In most cases, people prefer to install pavers for their patios. We are skilled at installing concrete pavers, colored concrete, stained concrete, etc., so feel free to contact us for more information. 

Pool Deck: The pool deck area of your house often gets neglected. But don't make this mistake. If you don't tend to your deck, it will become slippery and may lead to a lot of unpleasant experiences. If you want to give a fresh lease of life to your old pool deck, we have a solution. Install a concrete pool deck that will give you the necessary sturdiness and durability, and also it will add to the overall aesthetic charm of your house. We would strongly recommend that you invest in a cool deck or Kool deck, so that heat or cold cannot directly affect your deck. 
Besides these, we are also proficient in concrete pouring, resurfacing, concrete leveling, concrete pumping, making countertops, installing pavers, etc. 
Stone and Brick Masonry: When it comes to masonry, we offer numerous services for your landscape. Starting from bricklaying, building stone and brick walls, retaining walls, pavers, countertops, driveways, sidewalks, patios, pavements, pool decks, and so on. 
If you cannot figure out which material would be the perfect fit for your project, we can assist you. All you need to do is pick up your phone and give us a call! 
Call us today at (909) 247-3648 for free estimates.
What Makes Us The Best?
We have been working in the concrete and masonry industry for a long time now. Our hard work, perseverance, dedication, and great service quality have made us the top-rated company in the city. We value our customers more than anything, and we try our best to infuse life into their dream landscapes. So if you too have a grand vision for your property, but you're not quite sure about whom to hire, contact us to get the best results for your project. You can fill-up the form below, and we will get back to you shortly. Or if you are in a rush, give us a call. 
Call us today at (909) 247-3648 for free estimates.