La Habra Concrete Contractor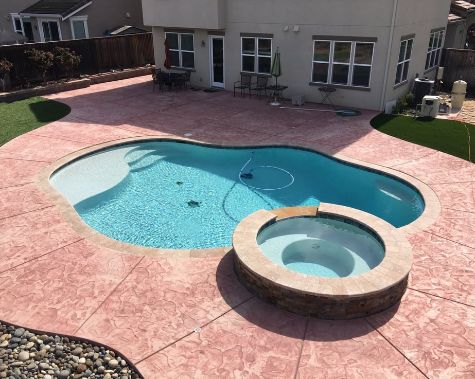 Do you live in La Habra and its vicinity? Are you searching for a reliable La Habra concrete contractor for renovating or building your landscape? Your search ends here. We are the leading name in the concrete industry, and no matter what services you are looking for, we can provide that for you. To build the house of your dreams, it's necessary to focus on your outdoors first. That's the first thing people notice about your property, so the landscape needs to look top-notch.
Call us today at (909) 247-3648 for free quotes.
Concrete & Masonry Services
Now, let us give you a glance into the plethora of services that we offer. We are equally efficient at working with concrete, bricks, and stones to serve all your hardscaping needs. Concrete is the first choice of most contractors and house owners. Thanks to its sturdiness, longevity, and cost-efficiency, concrete has established itself as the go-to material for most projects. The only shortcoming of cement is its bland color. But don't worry! We will help you choose the right decorative concrete so that you can easily recreate the looks of stones, tiles, bricks, wood, etc. on your concrete surface. Isn't that amazing? And the best part is, to achieve your desired style or design, you won't have to burn a hole in your pocket. 
Driveway: Bored with your old, boring driveway? Build a new one! Hire us to create the most beautiful driveway for your house. 

Patio: To build a cozy, pretty, and durable patio for your house, hire us today. You can either go for concrete pavers, or you can opt for decorative concrete. 

Sidewalk: When you are decking up your house, don't forget the sidewalks! Please give them a new lease on life. Concrete sidewalks look beautiful, and they last very long. 
We cover almost every concrete related work that you can think of. Starting from concrete pouring, resurfacing, leveling, making concrete slabs, concrete floors, walls, retaining walls, driveways, patios, sidewalks, to installing pavers, colored concrete, stained concrete, decorative concrete, and any other service that you can think of– we do all of them.
Now let's come to masonry. Apart from the main materials like brick or stone, a very important element is the mortar. To create a solid structure, the mortar has to be of the right proportion. Dealing with stones is a bit of a task. One reason is its massive weight, and another reason is that it needs to be handled very delicately. Without the right knowledge and expertise, it's impossible to create a sturdy stone structure. But you don't need to worry about that. At La Habra Concrete, we are highly skilled at dealing with both stones and bricks. Bricks have a natural, earthy texture that can make any house look a million times more aesthetic, and they are often used in building hardscapes. In stone and brickworks, we offer to install pavers, making walls, retaining walls, driveways, patios, sidewalks, pool decks, and so on. 
By now, we are sure you have got an idea about our different services. However, this list is not extensive. In case you have a query or are confused about which material would be the best for your project, give us a call, and our experts will assist you.
Call us today at (909) 247-3648 for free quotes. 
Why Should You Hire Professionals? 
Concrete and masonry services are long-term investments, and you should trust only a highly skilled professional. These works require enormous precision, patience, and knowledge of the craft. A single wrong move can completely break your entire project, so you have to be extra careful. At La Habra Concrete, we have years of experience, and our expert team is highly competent at dealing with all your property related needs. If you reside in La Habra and have a project in mind, please contact us. You can also fill-up the form below, and we will get in touch with you very soon. 
Call us today at (909) 247-3648 for free quotes.