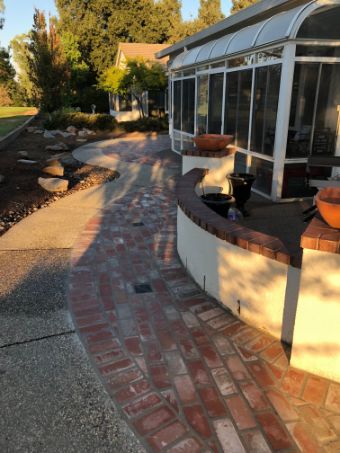 Beauty Outdoors With Brick Pavers!
If you are looking for a great way to improve the appearance and functionality of the outdoor areas of your residential or commercial property, then look no further than brick pavers as a long-lasting solution to your outdoor surface problems or needs. At Pro Chino Hill Concrete, our installers and experts work diligently with each customer to ensure that the customer's vision for their property is turned into an amazing reality.
Whether your brick paver project is for commercial or residential purposes, rest assured that we possess the perfect equipment, expertise, and knowledge to execute your job without causing any harm to the environment. We ensure our operations do not prevent you from having access to your home or business, and we also make sure that we complete your project on or before the budgeted timeframe.
Brick Pavers are a creative way to upgrade your property by adding value and elegance to your home or business while also providing durability. Many homeowners and business owners are replacing their older damaged concrete driveways and patios with stunning brick pavers in Chino Hills and its environs, which will never crack. With such colors, patterns, and designs to choose from, brick pavers are a good investment and are great for almost all types of surfaces. 
Brick pavers have existed for centuries, but they've become quite popular in recent times as they are versatile hardscape materials that can transform your property while complementing your landscape. Many people install brick pavers to create outdoor kitchens, driveways, walkways, and garden walls. We encourage you to give Pro Chino Hills Concrete a call and get a free estimate on your next brick paver task. 
Are you looking for the best brick pavers in Chino Hills? Dial (909) 247-3648 now and get free estimates.
Why Invest In Brick Pavers?
Do you feel like your home or business needs an aesthetic boost? Does your landscape bore you? What you need is some hardscaping to complement your landscape and make your property look incredible. Brick pavers are a great choice of hardscape that will make an enormous difference in how your property looks. 
Here are some good reasons to invest in brick pavers as a simple but effective way of transforming your home or business: 
Brick pavers will not only add beauty to your property but will also boost the functionality of your outdoor spaces and also increase the market value of your property. 

California is an earthquake-prone zone, and this affects flooring types, such as concrete. But with brick pavers, there is minimal to no damage to your patio or driveway as the damaged brick pavers can be removed individually and replaced. 

Brick pavers can be created in vibrant colors to match or complement your home or business style. 

Your home or business will surely stand out in the area with flawlessly completed brick paver installations on your property. 

Brick pavers are easy to maintain and do not require heavy-duty machinery or techniques to maintain their beauty.
Maintenance of Your Brick Pavers
When you power-wash your brick pavers, you preserve their color and original beauty. Clean brick pavers make your property look incredible all year round. We at Pro Chino Hills Concrete can help you maintain the appeal of your brick paver installation with effective cleaning solutions that won't harm the brick pavers or the substrate underneath the pavers. It is good to note that not all cleaning methods are ideal for brick pavers, as some cleaning methods will damage the pavers or reduce color vibrancy.
Another way of maintaining your brick pavers is to apply a good quality sealer to it after installation. To ensure that your paver surface gets maximum protection, let a professional contractor handle your brick paver surface's sealing or resealing to ensure long-lasting protection.
Call at  (909) 247-3648 to get the best deal and free estimates.