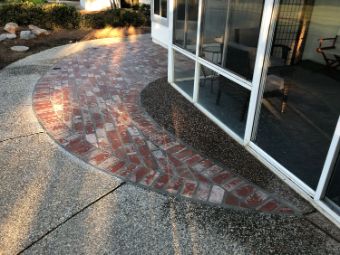 A Clearer View of Bricklaying
Contrary to what many people think, a bricklayer isn't just a person who lays down bricks to make walls. A bricklayer is a skilled craftsman with knowledge and experience working with bricks, stone, concrete, and structural tiles to build or renovate walls, foundations, surfaces, and other types of structures. There is certain preparatory work like cleaning and caulking that are also the responsibility of a bricklayer. 
In recent times, bricklaying has gone from basic concrete work or stonework to creating art and architectural masterpieces using cutting edge technology and in-depth knowledge of various building materials. At Pro Chino Hills Concrete, we know that the world is ever-changing with new building techniques being developed and new equipment being manufactured, so we ensure our bricklayers stay on top of the game with continuous training. Bricklaying for us is more than a job. It's a passion, and that is why we handle every concrete work or masonry work with care, diligence, and high-craftmanship. 
Whether you need a new driveway installed, or you need your old fireplace renovated to brand new, or you want to construct retaining walls around your yard to create the perfect landscape, Pro Chino Hills Concrete are your go-to contractor to hire the best bricklayers in the business. Give us a call now, and let's begin working on your next home improvement project. 
At Pro Chino Hills Concrete, we understand that bricklaying isn't just about mortar and bricks. Many technical aptitudes are needed to understand just about any building plan. Simultaneously, creativity is a must to ensure that the client's dream for their residential or commercial property is actualized. With the ever-increasing popularity of decorative surfaces such as exposed aggregate floors, stained and stamped concrete, paver floors, etc., bricklaying requires more than mixing cement. 
Looking for the best bricklayer in Chino Hills, California? Call us at (909) 247-3648 to get the best deal and free estimates.
Why You Should Hire Only Professional Bricklayers
The advantages of hiring a professional bricklayer to take on your home improvement or building project outweigh the results of a badly done job. It is a bad investment to attempt bricklaying jobs yourself or hire an incompetent contractor as your time, money, and resources go down the drain. 
It is tempting to attempt such projects by yourself, especially with so much information and how-to's on the Internet about virtually anything. Still, it is not advisable to perform such tasks on your own because you could end up wasting money at best or hurting yourself at worst. Such tasks should be handled by certified professional bricklaying contractors who will come equipped with the proper training, the right experience, and the skills required to pull off that job perfectly. Anything worth doing is worth doing well, as they say, so why not call Pro Chino Hills Concrete today and get premium bricklaying services and unbeatable results? We're waiting for your call!
Some Benefits of Hiring a Professional Bricklayer 
Cost
Rather than work blindly without an actual budget or idea of your project's cost, a professional bricklaying company or contractor will give you an accurate estimate of the cost of the entire project you are setting to embark on. You will also be informed of any possible financial challenges that may crop up during your task's execution. That way, there are no hidden or unexpected expenses when your project is underway. At Pro Chino Hills Concrete, we will give you great estimates and ensure that your project is completed flawlessly without going over your budget.
Experience
It doesn't matter how well or how long you research or watch tutorials. The fact is that construction and bricklaying work is not a trial and error project as it requires years of experience to take on. The experience will always trump knowledge as they say experience is the best teacher. Not only will a professional have immediate solutions to any issues that arise, but they will be able to make the most out of your resources to ensure that you are saved time and cost. 
Peace of Mind
When a professional contractor is handling your construction or renovation job, you can rest assured that your project will be handled perfectly and delivered without hitches. You won't do any running around. You won't have to bother about materials, techniques, or machinery. All you'd have to do is relax and let them do their job well. That's why it is best to work with a professional bricklayer who is insured, licensed, and has great testimonials. 
Get yourself a professional bricklayer today by calling Pro Chino Hills Concrete or send us a message via the contact form and get free estimates on your building project as well as unbeatable experts and delivery.
Contact us at (909) 247-3648 to get the best deal and free estimates.