Chino Hills Concrete Slab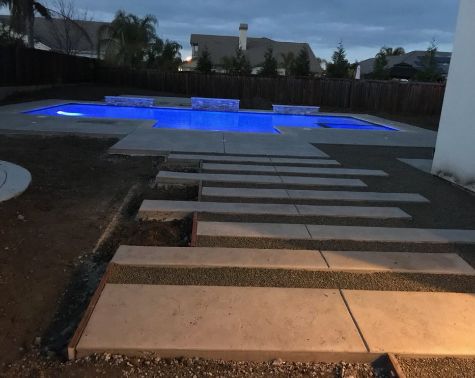 A concrete slab is commonly used as a foundation for different home structures such as a garage, shed, home, or patio. In most cases, a concrete slab requires to be reinforced with re-mesh or bars. While there is no doubt that concrete is strong, its tensile strength is weak. This means that crushing concrete can be hard. But it is easy to pull it apart.
To know more about concrete slab in Chino Hills, contact us at (909) 247-3648.
Here is how to add to the strength of a concrete slab.
Compressive Strength of a Concrete Slab
The reason why concrete has compressive strength is that it contains crushed rock and sand. These materials can support heavyweights. To increase the compressive strength, more rocks or even harder rocks are used. Even though the mix ratio is usually 4:2:1(crushed rock: sand: cement), your concrete contractor can add to the ratio to provide more compressive strength of a concrete slab.
Tensile Strength
One of the reasons why concrete slabs need to be reinforced is because the slab's compressive strength isn't what fails first. Even though concrete gets compressive strength from sand and rock, the tensile strength of sand and rock is very little as compared to their compressive strength. Take note that tensile strength refers to the ability of a material to adhere. Cement is the glue that binds the three ingredients of concrete after curing. Like it is the case with glue, cement tends to be easily pulled apart. The concrete's tensile strength is tested by torsion and ending.
How to Add to the Tensile Strength of a Concrete Slab
To add to the tensile strength of concrete, there are a few measures that concrete contractors use. These include:
Reinforcing Mesh or Reinforcing Bar
A reinforcing mesh or reinforcing bar is a great way of dealing with the weak tensile strength of concrete. This means that remesh and rebar can strengthen the concrete's tensile strength. Rebars tend to bend and flex when they are picked up. However, even though remesh is more flaccid, when it gets encased in concrete, the tensile strength is added due to the pressure of the tensile weight getting distributed all over the bars. When the bars get tied to a grid with some perpendicular overlaps, this can considerably increase the rebar's tensile strength.
Reinforcing Cages and Rebar Size
When a single rebar curtain is laid flat, this offers more tensile strength to a concrete slab to a point where it can survive the shifting and swelling of the earth below. However, if extra strength is needed, there are two options. First, the number of rebars can be increased. Secondly, a cage can be used to increase tensile strength. When an interior cage is added to reinforced concrete, it will be four times stronger than a concrete slab consisting of one horizontal curtain.
You should speak to a concrete contractor for more ideas on how to increase the strength of your concrete slab. You can call Pro Chino Hills Concrete at (909) 247-3648 to discuss your project.