Chino Hills Turf Installation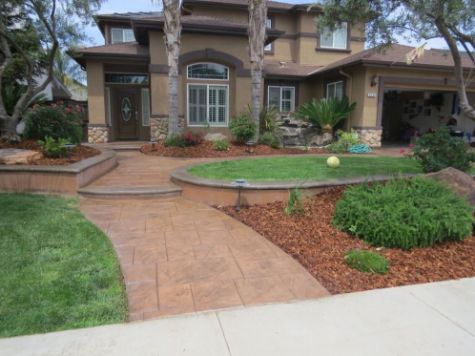 Should you choose natural grass or artificial grass? This is one of the questions in the minds of many homeowners. If you live in an area such as Chino Hills where droughts are common, you will notice that turf installation can go a long way in helping you maintain a beautiful lawn look without having to worry about the risk of violating landscaping laws or water restrictions. 
Contact Pro Chino Hills Concrete at (909) 247-3648 for turf installations in Chino Hills. 
Here are a few reasons to consider turf installation:
Drought Resistant
Artificial grass doesn't require water to grow. It only needs a little water to rinse it to get rid of dust and odor. This masks turf installation a perfect solution for areas suffering from drought.
No Maintenance
This is probably the most common reason why people choose turf installation. You will not need to spend time caring for your lawn. Instead, you can use that time for relaxation and family activities. 
Get Rid of Puddling
Before the turf's installation, the ground should be smoothed and rolled out to get rid of valleys and grooves where there can be an accumulation of water. The small irrigation channels are added to help drain any excess water. You can also add some small irrigation channels to serve the same purpose and ensure that it doesn't pool in the low areas.
No Stains from Grass
A common problem with natural grass is that it can bring stains in your home. On the other hand, you will not see mud stains or unsightly grass on shoes or clothing. Even when kids slide across natural grass, this can result in brown streaks and long green stains that can be hard to get out. This is something that shouldn't happen when it comes to artificial turf.
No Unwanted Pathways
When people walk over natural grass for a long time, this often leads to an unwanted pathway. This leaves a bare spot in the garden and lawns. One of the benefits of artificial turn is that it is extremely resilient to the constant pressure of getting walked on. The blades of a turn will stay upright when the filler is in place.
No Worry About Shade
When natural grass is planted in a shaded area, it can easily fade and die. However, there is no direct sunlight required for turf installation. This is because a synthetic turn will perform well under a shade as it will maintain its size and color even when there is no water or direct sunlight. 
Safe for Kids and Pets
Another benefit of artificial turns is that the majority of brands come with antibacterial that ensures there is no spread of bacteria and germs. Kids and pets can play on the turf without the fear of getting exposed to harmful fertilizers, pesticides, and other harmful chemicals that are commonly used in the maintenance of natural grass lawn.
Doesn't Need Fertilizers
Artificial turf doesn't spread or grow. Even without fertilizers, it will stay vibrant. The turf will stay green, lush, and free of toxins. The harsh fertilizers can also cause harsh environmental effects. 
To know more about Pro Chino Hills Concrete services like turf installation and concrete and masonry works,call us today at (909) 247-3648 to get the best services!